The Amazing User Interface Work of Fatdog Productions
Fatdog Productions (the artist known as, who won't reveal their real name or identity) burst onto the IIGS scene last year.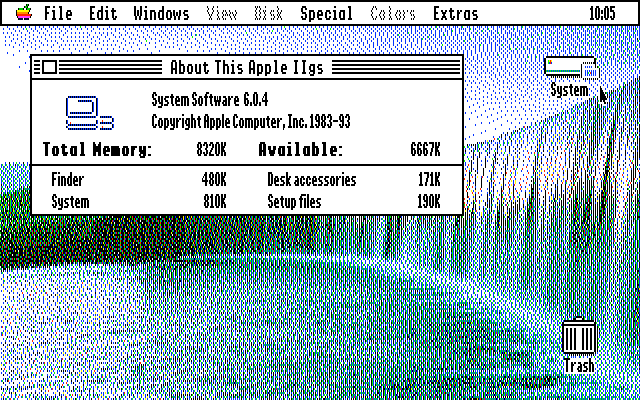 Fatdog's been really pushing the creative side of the IIGS – music, graphics and animation wise. I'm very pleased to present the first of Fatdog's efforts with his amazing desktop image conversions (simply the best 640 mode SHR graphics ever to appear for the IIGS thanks to some prep work using modern tools and then converting with SuperConvert v4) as well as his beautiful, consistent AND practical icon sets that are all set up to deal with common file types and make them as accessible to the best apps as possible. Icons that include volumes, as well those for graphics, sound and music formats and complete replacements for everything that makes up the system. Icons that can visually differentiate between active and inactive system extensions. Even the Finder has been resource edited so default icons have been replaced with this beautiful new icon set. And even large and small icon formats have been catered for in regular and list views within the Finder, which also work in open and save dialogs if you install the provided Sys.Icons init.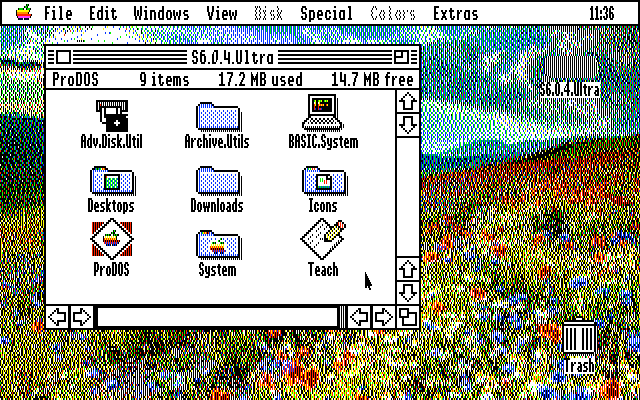 In addition to putting the Sys.Icons init in the System.Setup folder, you can add these icons to your system by replacing the Finder with the one provided in the following 32meg disk image. Copy all the icon and filetype resources into your Icons folder of your preferred System 6.0.x install. Also provided is the newer version of PicViewer by Brutal Deluxe, so you can simply double-click on each image in the Finder to review them before using the DeskMaker to set your desktop (or use another NDA or CDev based method of setting your desktops). Also, there are fonts you can add to change the appearance of GS/OS apps with the SysFont NDA. Fatdog's created a font to their liking, and I've got an updated version of Smallville, that includes all ASCII characters now.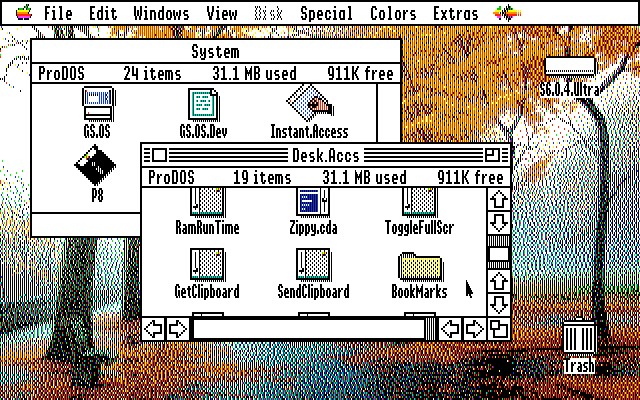 Now, note that due to increased load of system extensions, you might find GS/OS isn't as stable as it was without them, so you may find the system crashes a little more than it did. I haven't had time to minimise or find direct causes related to specfiic extensions (DeskMaker I've been using for years and found to be rock solid, but SysFont is relatively new only having been discovered last year).
Have a play:

Download the Fatdog Productions System 6 Makeover (~23 meg 2image)
Make a backup of your existing installation of System 6.0.x however, so if you need to, you can revert back to it if you find the new system changes aren't to your liking.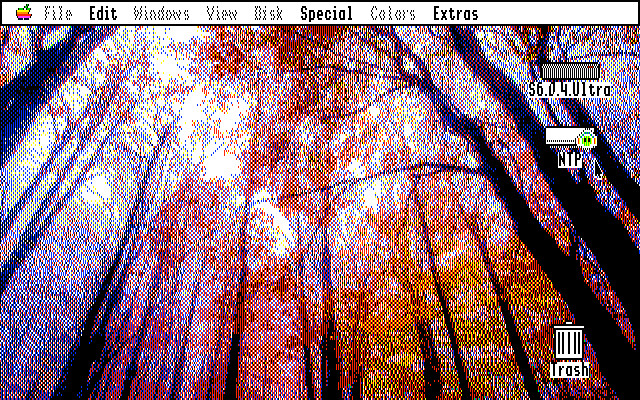 What else could we expect from Fatdog? Well, he's been composing his own music in MPT Tracker and converting it to the IIGS in NinjaTracker Pro format and with some accompanying album art. Perhaps when the graphics slideshow and music comes together in a user friendly manner, they'll be ready to share with everyone.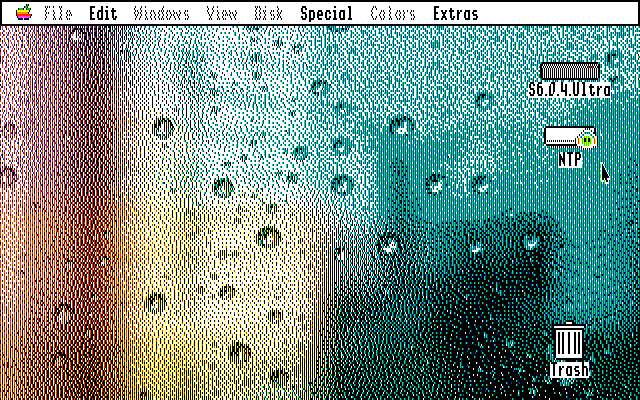 Also, Fatdog's pushing the absolute limits with animation on the IIGS. Using the old $C2 Paintworks Plus animation format as a base, Fatdog's been converting videos to the IIGS using every trick in the book to enable best quality imagery, speed of playback and never-before long length videos. Antoine Vignau, John Brooks, Dagen Brock, Jason Anderson and Ian Brumby, IIGS developers of old, are all contributing to a potentially updated animation format for the IIGS to really make Fatdog's work sing and for best playback results even on stock 2.8Mhz IIGS. This collaboration has been going on on Slack, in the various channels. If you've got a Slack account already setup, you can join the Apple II channels here.