A Dream Comes True! IIGS Users Unite in Paris!
I loved the 1990 California Demo by Mr Z and the FTA, which told the story of their visit to California - meeting the late Joe Kohn who had sung the praises of their work in many an article, as well as meeting the Apple II development team at Apple itself. Digital Exodus' Xmas Demo of 1993 wove a similar tale, only this time it was the convergence of Apple II fans gathering for Apple Expo West 1993. Meeting some of the Apple II elite from France...over fine food and wine, lots of laughs, the occasional language hiccup, and some amazing generosity I can now weave my own tale of how simply having an interest in the Apple II means you automatically have friends all the over the world.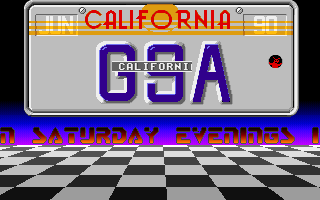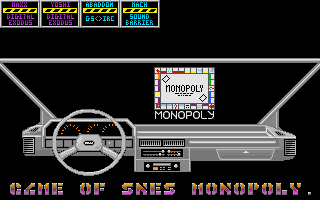 Antoine had arranged as many Apple II fans as were available for my first night in Paris. With my partner Bronwen, Antoine picked us up from Hotel André Gill right in the heart of Montmartre, taking in many of the glittering sights of Paris along the way - although we disappointed Antoine by telling him how we'd seen most of them three years ago or that we'd seen them that very afternoon, after a visit to the Musée d'orsay! Arriving at the restaurant Mathusalem, we sat down and started with Bordeaux wine (the region made famous not only for wines but also for being the birthplace of Antoine)!
We were then joined by Jean-Pierre Lagrange, longtime Apple II fan, whiz and webmaster of Hackzapple and as we started to chat, it started a trend that made it clear that everyone's English was much better than my French...including Bronwen's! Fashionably late was François Michaud, who marked the occasion by providing all attendees of the dinner with a beautifully finished wooden Apple logo (see below). Une telle générosité! Not only that, but drawing from his incredibly impressive collection, François also bestowed me with an amazing A1 sized print reproduction of an original Apple IIGS poster used to promote the machine in France shortly after its release.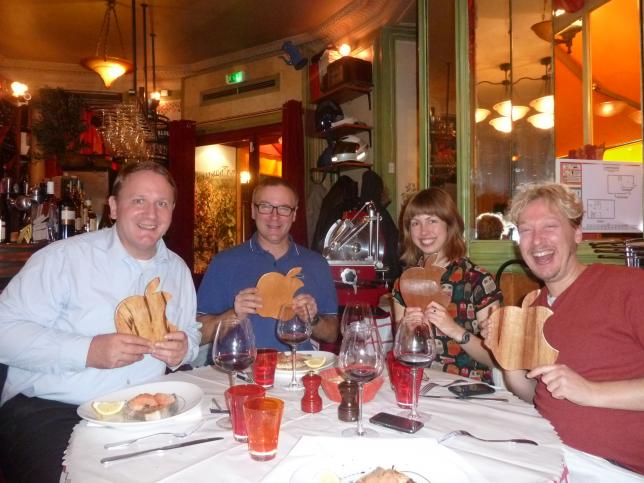 At this point, I have a confession to make: there are actually things I love more than the Apple II: chiefly, food. I was not disappointed by the French onion soup (which in France, is strangely simplified by calling it 'onion soup') and then the AAAAA chitterling sausage was a new contender for my favourite meat left-over ensemble (it's a strong contending crowd with some other hot runners being some incredible sausages I ate in Bremen, Germany and Scotland's national dish, Haggis). For dessert, I shared a café gourmond with Bron, just leaving the coffee all to her (I'm not a big coffee drinker).
The conversation naturally drifted towards our Apple II collections and François is the undeniable hoarding champion at around 485 Apple computers in his possession. Not to mention his assortment of other Apple memorabilia, including retail point of sale displays, software, brochures, publications, you name it. Our discussion then lead to how each of our respective partners, knowing full well that my own partner was seated next to me, react to our compulsive stockpiling of vintage Apple hardware...let's just say that all of our better halves are incredibly patient with us! Speaking of which, François's daughter is currently conducting a psychological survey on addiction...but rather than study the addictive effects of drugs or alcohol, she's wanting responses from people addicting to collecting Apple hardware. Let François know if you'd be interested in partaking!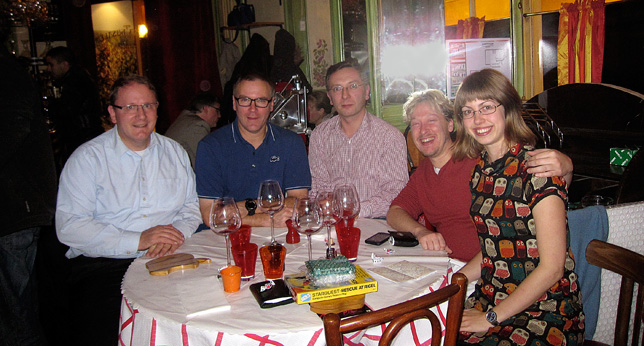 Time was flying as we were having fun and so the evening came to an unfortunate end. Sleep was becoming a necessary addition to a very full day.
For the following day, Antoine also had a near full itinerary booked. I was to meet him and Paul Lafonta, engineer, creator of many Apple II expansion cards, a real hacker since the early days of Apple, and also close friend to Jean Louis Gassee ;-) Meeting them by the Paris Metro at Alesia, Paul's laboratory was nearby and we went in to see it - it was an incredible monument to vintage Apple hardware...literally, almost a building sized sculpture made from the parts of Apple cases, filed away motherboards, stacked hard drives and lots of miscellaneous vintage computing bric-a-brac. Unfortunately, some of the collection had recently suffered water damage thanks to a leaking ceiling. I hope this fate doesn't await me when I return to Australia and my collection in storage.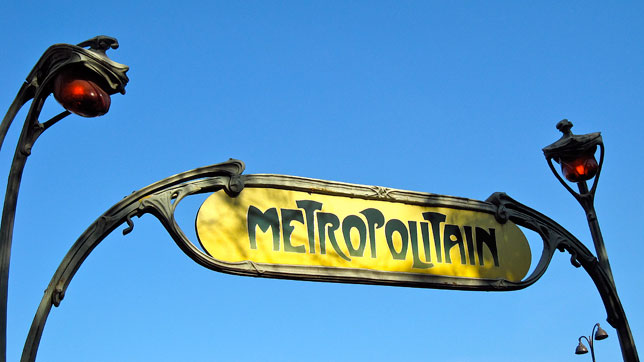 With Antoine as chauffeur, we took a pleasant drive out to his home near Versailles on a bright sunny day. In the light-filled living room we sat down and had tea while Antoine added another member to our party - Bill Martens of Call A.P.P.L.E. and Virtual Apple, live from Tokyo, Japan via FaceTime on the iPad 2. We talked about recent collaborations cataloging MECC software but it became too hard not to talk about how Bill was the spitting image of Santa Claus, complete with long beard. Any Japanese kid sitting on his knee would not hesitate to think this was the real Santa. But things had to keep rolling, so we had to bid adieu to Bill and make our way to lunch at Restaurant La villa.
Antoine's longtime programming partner at Brutal Deluxe, Olivier Zardini, was to make an appearance for lunch, but bathroom renovation woes would unfortunately keep him away from our first meeting. However, Antoine informed me that Jean-Pierre Charpentier, better known as Babar St Cyr, would be making an appearance. Antoine knew I was happy about this, as my eyes lit up: I would meet the author of Polysons?!? Incrediblé! Although worrying about speaking in English, Babar needn't have been concerned as again, his English was a lot better than my French! I loved his story of how he met Steve Jobs and got his autograph: Visiting Paris for a NeXT presentation back in the early to mid 90s, Babar waited patiently for Jobs to appear after his presentation and pounced when the man finally appeared. Barbar handed Jobs a print of his NeXT browser new desk accessory for the IIGS and Steve said 'That's OK, just don't sell it' and then wrote his autograph on it and away he went.
The late Apple CEO was very much on our minds that day, because Antoine was carrying with him a copy of Steve Jobs' biography. Antoine proclaimed, with just a little tongue-in-cheek, that it was the 'nouvelle bible!' and at various intervals during the day, he would tenderly place it on a table or chair, kneel in front of it and make the sign of the cross.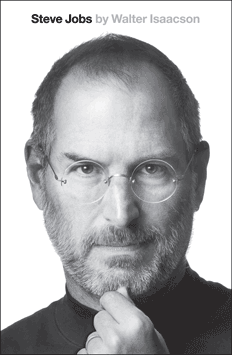 But back to more important things: lunch. A snifter of sangria made my palette sit up and take notice and for the Basque region inspired cuisine to follow. Not sure how large the choices on the menu would be and seeing they had a selection of tapas, I asked Antoine what the 'plats' / 'plages' were and he explained they were a selection of foods on a wooden board. Sounds like an English ploughman's so I ordered the seafood version. It was excellent. It included lovely large anchovies (not of the usual salty variety found on pizzas), a squid's ink calamari, seasoned prawns, a little salad and a salmon mousse accompanied with crusty bread.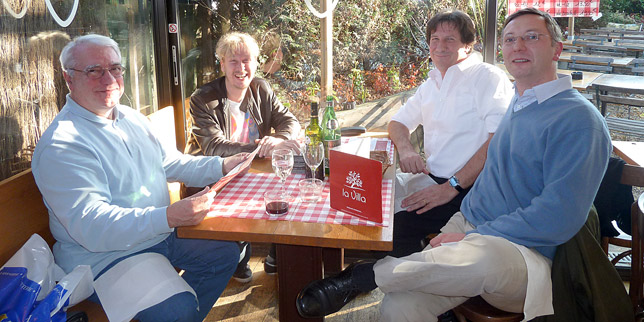 Our leisurely lunch continued to talk of past glories on the Apple II, technology and the ugly business side of it all. We made our way back to Antoine's for a full disclosure of his Apple II 'den'. Multiple IIGS machines adorn the available table spaces. It's always great seeing IIGS like this and these were made all the more exotic with peripherals I don't have, not to mention the French AZERTY keyboards. Antoine showed us some interesting snippets of System 6 source code (complete with interesting stories on the development of GS/OS included with the code itself, including how a single flag made the MS-DOS FST a read-only part of the system when it could have so easily been read and write!) I glanced through all the shelves of books and boxed software just like I might have done as a kid when I visited the local Apple Centre. I wish I'd taken a photo of it, but I did manage to take a photo of the shower in the bathroom next door: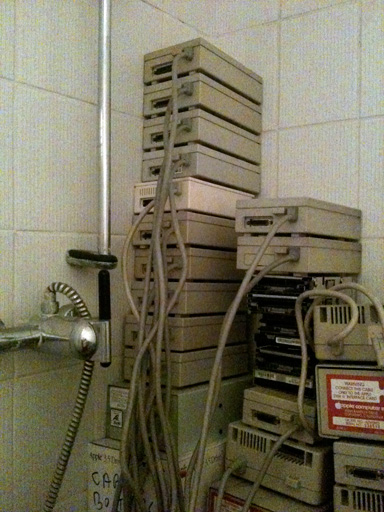 Clearly the sign of another addicted Apple II collector!
Antoine gave me copies of all four volumes of the Apple II: Le Guide, which revealed some French IIGS software I'd never heard of before...damn, more software to find and archive! Really cool, comprehensive listings of IIGS and Apple II software and hardware, although with the added challenge of being in French.
Seeing off Barbar, who technically was illegally parked in front of Antoine's driveway, we then only had time enough for me to show Antoine and Paul a nice selection of visuals I've amassed for the coffee table book as well as some layouts. Over the weekend questions were asked about my book: chiefly what exactly will it be about? It is still dedicated to the IIGS, as I've always originally intended, and I want it to be a complete visual history of the platform - something that IIGS fans can refer to for specific information and that the wider Apple fan community would enjoy to see learning about this unique Apple platform, rather than another resource dedicated to the Macintosh or iOS.
Sadly, it was time to go. Antoine was able to give me a lift back to Concorde, where I caught up with Bronwen again and we explored the Christmas markets leading up to the Champs-Élysées, finding a bite to eat (Tartiflette and a brochette) along the way. The following day we checked out the flea markets and wandered around the magical city.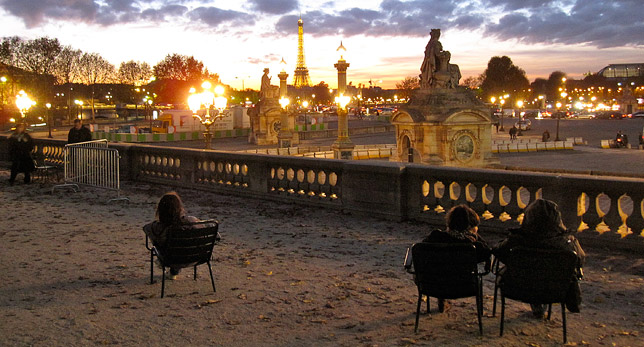 Much thanks to everyone who came to lunch or dinner (or FaceTime) and extra special thanks to Antoine for organising these Apple II soirees. It's made me keen to catch up with those rare individuals in the UK who still covet Apple IIs, so lookout Drew and Ewen! ;-)